How to control your schedule so your clients don't do it for you
One of the game changers in my career was the year I decided I couldn't book a client meeting every time someone asked for one.  I found myself with 14 meetings a week and no time work actually work.  What was I thinking?  Here's how it would work.  I'd get an email or a call with an "I need to meet in person, can you swing by the office tomorrow?" – my answer, "Sure".  End of story.
I honestly can't remember what led to the change.  I know I read somewhere to block out my calendar.  I had been a member of BNI for a couple of years and for any of you that have joined a networking group, your meetings multiply like crazy.   I decided to make a couple of days off limits to meetings.
First, I set my schedule to have meetings three days a week – Tuesdays, Wednesdays, and Thursdays.  I soon found Mondays and Fridays didn't give me enough time behind the computer.  Now, I have it down to a science and with Calendly and I really do my best to stick to it.  Of course, there are always going to be exceptions, but the important thing is you make an effort to limit those.
How my schedule breaks down:
Mondays and Fridays are office days (no in-person meetings).  I have a small amount of time for calls on all office days.
Thursdays are meeting days.  I have BNI that morning so I make a point to batch all my meetings.  I do limit it to three meetings in total.  I also include calls and video chats, so I could possibly be in the office for all my meetings.
Tuesdays and Wednesday alternate as meeting days every other week.  On the off weeks, they are office days.
Saturdays and Sundays are officially OFF.  Even if I'm working on my own time!
This has been serving me well for a few years.  I try to schedule all my personal appointments on meeting days.  If you're not careful, you will end up without office time booking your hair and dentist appointments when you need to be working on projects.
Below are screenshots of my calendar view on Google.  Google recently launched a great calendar update. I use a lot of colors.  What started as simply designating "office" vs "meeting" days has turned into time blocks for specific activities.  My productivity has definitely improved with this level of pre-planning.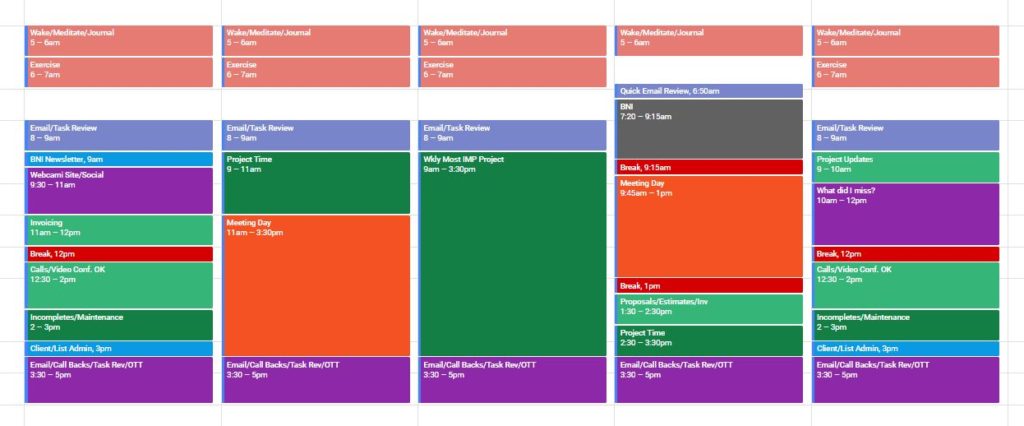 How do you schedule your day?  Please share on our Facebook group.
RESOURCES:  ENTREPRENEUR – 10 Secrets to Creating a Master Calendar That Drives Your Productivity