Reasons to start asking customers for feedback
If there is one thing I wish I had started doing earlier, it's asking clients for reviews. Some things that held me back included contemplating questions like, what if they weren't happy? Or what if they felt I was bugging them? Since I've made asking for reviews part of my process, I can say it's well worth the risk. The feedback is excellent for my visibility online and also good for me to understand what I'm doing right and what I can look to improve upon.
Insights gained from customer feedback can be extremely valuable for your business. After each website is launched, I send a request for a review, and I'm surprised at how happy some of my clients are to oblige. Here are reasons every web designer should ask for reviews.
Potential clients like to read them
When looking for a service, you most likely seek out reviews online. But, even if a friend has recommended someone, don't you also do a google search? I know I do. Asking your clients for a Google review is a great way to increase your search engine exposure and support your Google My Business page. If you have a challenging experience with a client, asking directly for a Google Review might not be best, but you can still ask them for feedback via email.
Get to know your customers' likes and dislikes
Feedback from your customers will help you learn what they like and dislike about your services. There is a lot of value in this information. You can learn what works for your customers and what doesn't can help you improve your service. For example, I have had clients tell me they were overwhelmed with emails I was sending, and now I ask folks, do you like getting emails? If they say no, I scale back my email delivery.
By asking customers for feedback, you make them feel important and involved. You're sending the message that you respect their opinions and care about what they have to say.
Find areas for improvement
Keeping your services at their best is possible if you continuously improve them. When you listen and seek feedback regularly, you know what works and doesn't for your customers. As a result, you can do better business, increase sales, and provide a better customer experience. However, if you never ask, you may never know what adjustments you can make to be more successful.
Tell a good story
I have a good friend that did a marketing presentation and stated, "You always want to leave your customers with a good story to tell." A good story will get the word out about your business and how great it was to work with you!
Your customers will be happy to tell that story if you give them a chance.
Tools I recommend for feedback
I have tried many different review tools, but the one I'm using is my absolute favorite.
I'm currently using the free version, but it will be worth the $40 a month to use it when I reach my limit.
You can see their feed on my REVIEWS page:
And you can create widgets to feed just one review on each page:
https://webcami.com/portfolio/pet-services-website-design-in-west-seattle/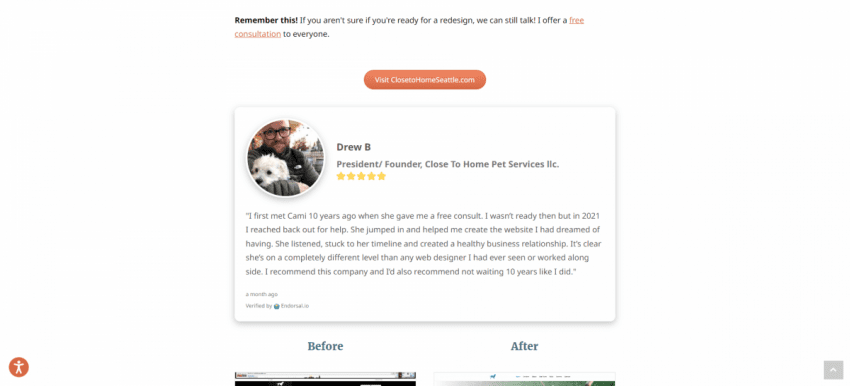 Now, it's not perfect. Occasionally, I'll get double quotes in a widget when someone reviews me on Google, too, but I can always rebuild the review on my own in the system.
It gives me two ways to send request forms. I have one that asks for a star rating and then directly links to Google or Facebook.
https://forms.endorsal.io/form/618c206d1ccbd91b3e628abb
Or, I can ask for the review first, and if it's four stars or higher, it will ask them to leave it on Google or Facebook (and they can copy what they just said).
https://forms.endorsal.io/form/618c1f3b1ccbd91b3e628ab6
Training you can take
https://renemorozowich.com/the-20-minute-testimonial-process/
Rene is someone I connected with on Twitter, and she has an excellent training for getting reviews. She covers how to ask and many other ways to gather reviews, including video review options. I enjoyed the training and encourage you to give it a look if this feels like something that might be hard to tackle on your own.
What are you waiting for?
Whatever is holding you back from asking for reviews, I suggest you overcome the apprehension and start asking for reviews as soon as possible. Make it part of your project offboarding process. Like anything else in your business, these reviews will grow over time in quantity, and you'll shine online against your competitors.