My Experience at WordCamp Vancouver 2023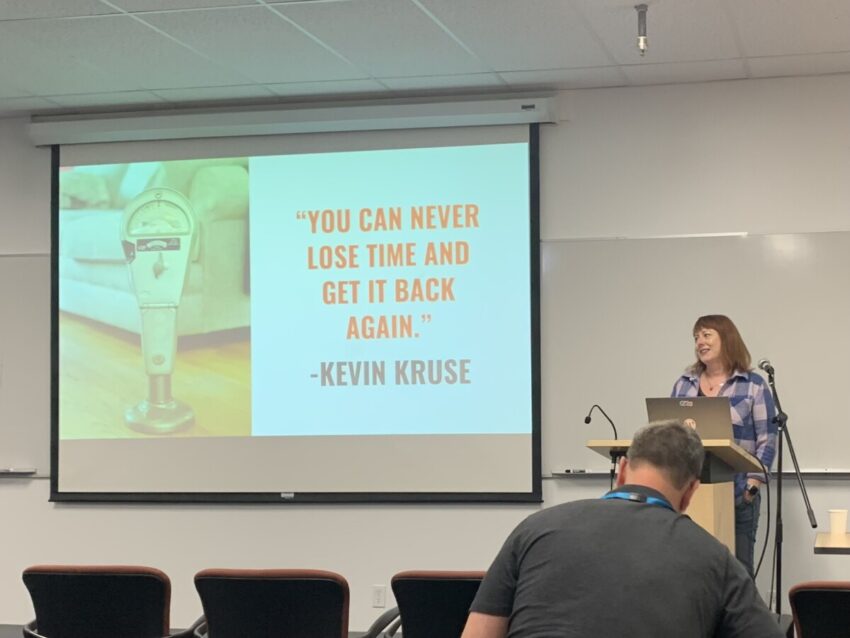 A recap of my WordCamp Vancouver experience was postponed, as my husband and I tested positive for COVID shortly after our return from Canada. The past week has been filled with recovery. Despite the health setback, I wanted to share the exceptional event hosted by our northern WordPress community.
Having previously attended larger events like WordCamp Arizona and WordCamp US this year, I was curious about the dynamics of a one-day WordCamp. Hosted at the University of British Columbia at Robson Square, WordCamp Vancouver impressively managed three simultaneous speaker tracks. Each time slot was packed with engaging topics, making it challenging to choose just one.
This event marked my second time speaking at WordCamp. Having a long-standing goal to present, I applied for this particular one due to its proximity. My presentation mirrored the one I delivered at WordCamp Phoenix, thankfully reducing prep time, although I still practiced diligently for about ten days.
I estimate that 120-150 attendees graced the event. The intimate setting allowed for meaningful interactions, especially in the sponsor area. Meeting Twitter acquaintances in person and networking with like-minded professionals was a treat. The provided lunch was excellent and they offered a variety of sandwiches, fruit and sweets!
Several presentations stood out:
My presentation was in the final slot, and it was a joy sharing my insights, especially with my husband in the audience, experiencing the WordPress community for the first time.
David Innes, a Seattle-based designer and friend, was also in attendance. We both previously attended WordCamp US in August but our interactions there were limited due to the size and scope of that location. We both agreed at WordCamp Vancouver that the presentations were particularly beneficial for WordPress business owners.
While the event was exceptional, the accompanying expenses in Vancouver, especially during Coldplay's stadium tour, were substantial. Despite the cost equivalent to a luxury Hawaiian stay, I have no regrets as it coincided with my 34th wedding anniversary. The journey to Vancouver had its hitches, though. A train accident ahead prolonged our trip by hours. In hindsight, seeing the swift car border crossings, driving might have been better. We spent nine hours on the train in total.
WordCamp Vancouver is a must-attend for WordPress users, especially those who operate web design businesses. To minimize costs, book accommodations early and set aside leisure time; the city's beauty, like the serene Stanley Park, can't be missed.
Kudos to the event organizers for a stellar conference.