WordCamp Phoenix 2023 Recap
It's been ten years since I started attending WordCamps. My first was in Seattle in 2013 and I've attended and volunteered most years it's been held in my community. I am so lucky I've been able to branch out and make it to WordCamps outside of my community. I've attended both Portland and Sacramento. GoDaddy kindly brought me along to WordCamp US in Nashville and St. Louis. I also went to San Diego in September and loved seeing everyone again after our pandemic hiatus. So when I heard that WordCamp Phoenix 2023 was coming up, I knew I had to be there. I also took the opportunity to take the leap and apply to speak, and while I was at it, I signed up to volunteer. All WordCamp, all weekend? It sounded good to me!
I contacted my friend Sandy Edwards to educate me on the application process and crafting my talk. Her mentorship was invaluable, and I was so happy when my application was accepted. But this also meant I would have to confront a fear of public speaking. So I listened to podcasts and books about speaking and started telling myself how excited I was to do it. After 12 years in BNI, where I had to do nearly forty 8-minute presentations, I felt pushing myself outside my comfort zone would be good, and I was right!
I felt nervous on the day of my talk, but the WordCamp community was so supportive and welcoming that I felt at ease once I got started. Even after finding out my computer would not work with the AV system. I didn't panic. Carol Stambaugh came to the rescue with her Mac. She made sure everything ran smoothly. When it was time for my talk, I took a deep breath and started my presentation without notes. The audience was engaged and asked many questions at the end of my presentation. It felt good to share my knowledge and experience with others and be warmly received. So many friends were there to cheer me on, and I always saw a friendly face in the audience.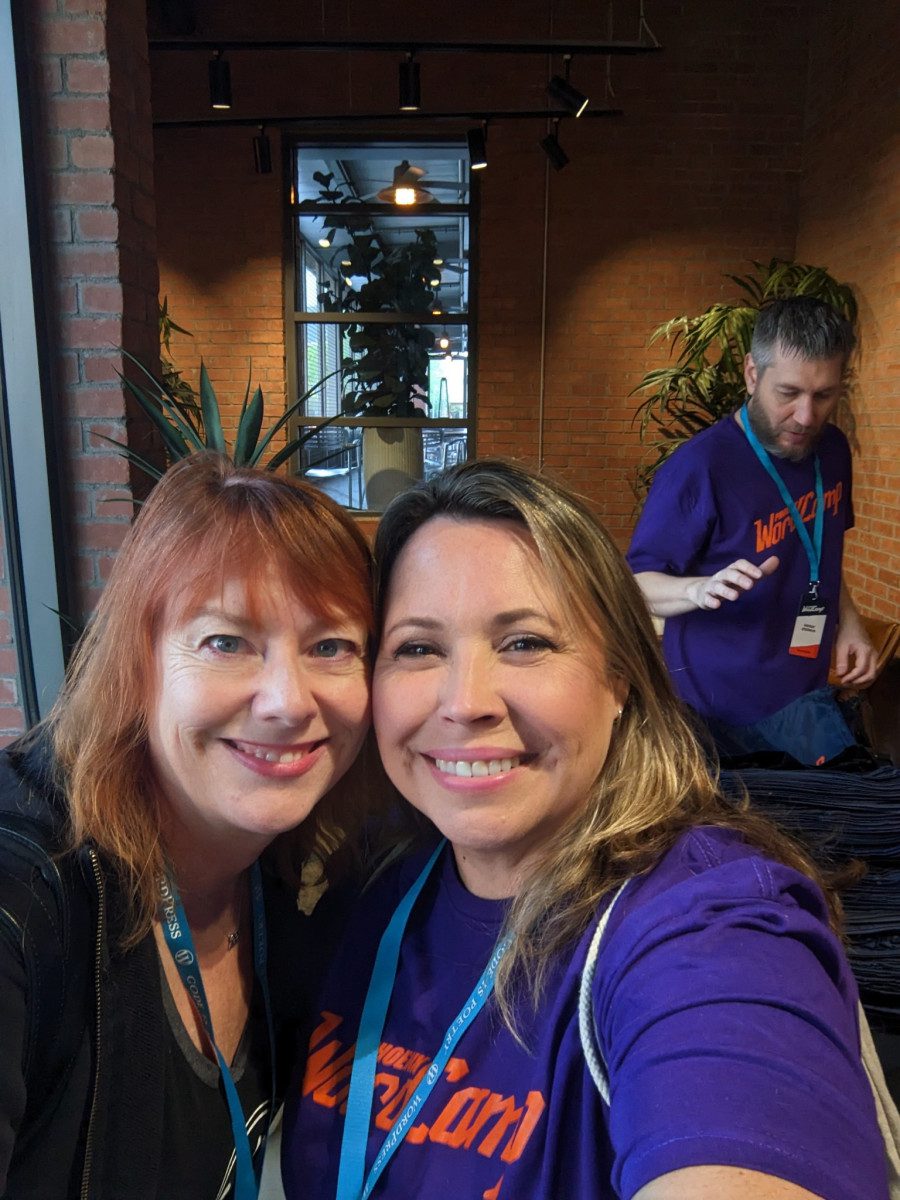 Another one of the highlights of WordCamp Phoenix was seeing many of my friends and meeting the creators of some of my favorite WordPress tools. The WordCamp community is such a tight-knit group, and it's always great to see familiar faces. I reconnected with a new friend I made at WordCamp US last fall. As volunteers, Michelle Huffaker and I had the best time being room monitors and backup dancers in Alicia St. Rose's presentation. I can't wait to hang out with her again! Also attending was one my oldest and dearest friends, Kerri Marvel. Kerri and I have known each other for over two decades. Having her in the audience for my first speaking engagement was so special!
As I have previously blogged, I'm a huge fan of Beaver Builder. That's what I use for all my website designs. It's not just about the ease of use for me but also for my clients. They love using Beaver Builder, too! All three founders were present, along with the entire Beaver Builder team. I was interviewed for their 9th anniversary. I found their sponsor booth empty on a break from volunteering and couldn't resist the opportunity to tell attendees about my experience using Beaver Builder and Assistant Pro.
Of course, I also attended many talks and sessions throughout the conference. The organizers did an excellent job of curating a diverse lineup of speakers, covering everything from development and design to marketing and business. Some of my favorite talks were done by Keely O'Connor, Cheryl Marquez, Rene Morozowich. Marcus Burnette, Alicia St. Rose, Sabrina Zeidan, and Femi Lewis. I missed the live talks by Laura Byrne, Michelle Frechette, Maddy Osman, and Robert Windisch. Luckily, I was able to watch when I returned on the event live stream, and you can too. Here's the link!
Aside from the talks, there were also many social events throughout the conference. Unfortunately, I missed the speaker's dinner on Thursday night because of my flight time. But, I did get to attend a dinner with the GoDaddy team the next day. The food at Ocotillo was amazing, and the company was even better. After many years on the GoDaddy Super Users Panel, the GoDaddy Pro team feels like family. Unfortunately, I always need more time to catch up with my friends Adam Warner, Justin Nealey, and the rest of the GoDaddy Pro team. I can't wait to see them at WordCamp US in August.
On the final night, I attended the after-party, which was held at a local brewery. It was a great way to unwind after a long day of learning and connect with others in a more relaxed setting. My friend Michelle Frechette sprung for the Lyft (thanks, Michelle), and we all enjoyed the food and open-air patio at AZ Wilderness. Again, I got to talk with new friends, like Matt Kopala of Site District, and old friends, like Matt Clancy. He was also the lead organizer for the event, and it was nice to thank him and the rest of the volunteer team for a great WordCamp.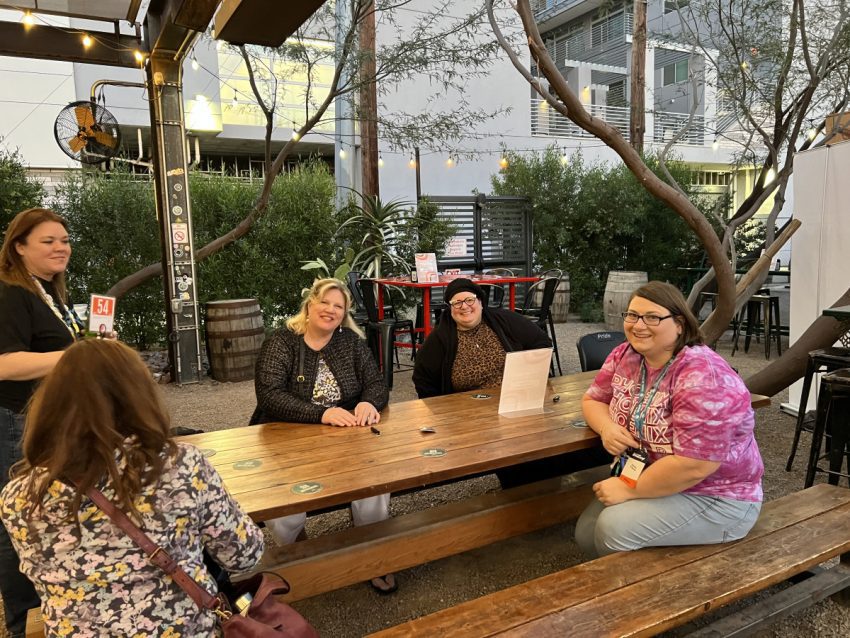 Overall, my experience at WordCamp Phoenix 2023 was fantastic. From speaking for the first time to volunteering and attending many great talks, I got the most out of the conference. I left Arizona feeling inspired and energized, ready to apply what I learned to my work and projects. I can't wait for the next WordCamp!
Listen on the WebCami Podcast