Week 4: Working with a broken ankle
Well, I'm out of the depression I was in last week.  I got the news that I was still in the clear for surgery, even though my break had moved a little bit.  I got a bright, shiny new red cast and it feels like a vice on my leg.  The good news is that it's lighter to move around with.  The bad news is that it's so tight that at night, my calf is cramping.  Having a charlie horse you can't try to massage out is hell, but it passes. Last night, I broke down and took a sleep aid.  This morning, I feel better than I have in weeks.
I'm almost working full days again.  I keep my foot up slightly under my desk, but no longer out to the side like it was before.  This is making my neck and back happier. I've been off the kitchen table for more than a week now.  I've sent out three proposals and continue to move through design projects.  I have a couple of sites ready to go.   I'm just waiting for the final approvals.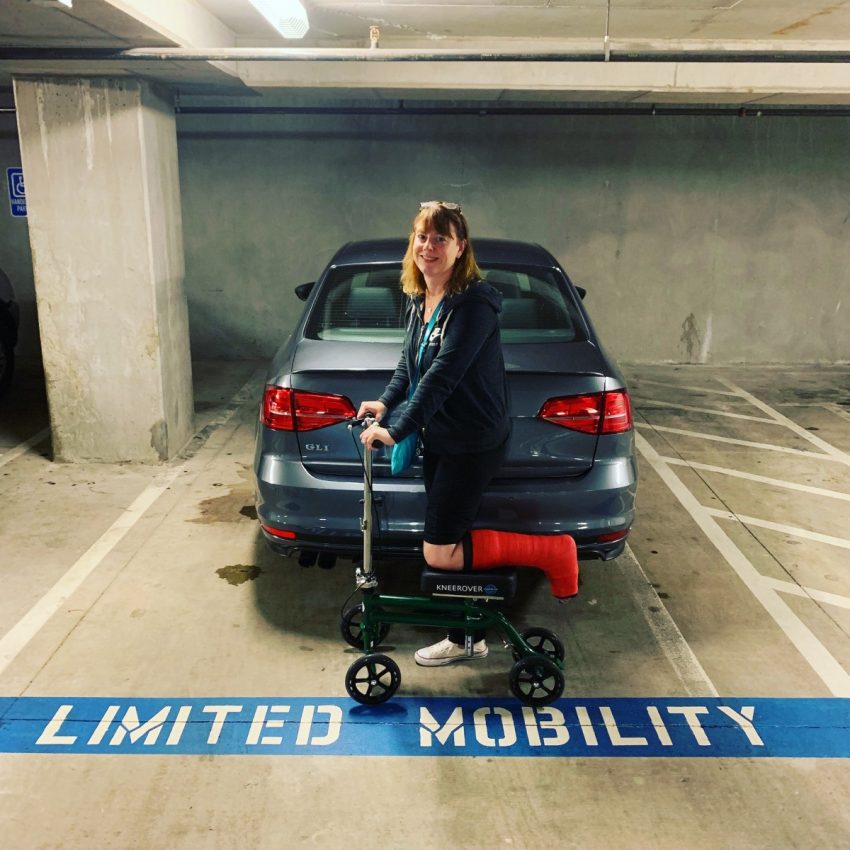 A big milestone for me was making it back to my BNI group last week.  As I have mentioned in the past, BNI is a huge part of my business support, for both referrals and in my personal life.  I'm currently the VP of the chapter and that's probably the most labor-intensive job in the organization.  I only have a couple more weeks in as VP and I'm very happy to pass the torch.  My fellow members are shuttling me and my knee scooter to and from the meeting.  I so appreciate them but, oh, how I miss driving on my own.
I've been spending a fair amount of time planning for my business as I lay on the couch after working with my foot up. Here are just a few items I've been working on:
I signed up for Bidsketch last week after spending way too long putting proposals together that week.  My proposals have three parts:  The proposal document that lays out the fix for their problem, my estimate from Freshbooks and my official contract sent via Sign Now.  I'm hoping to get all of this into Bidsketch and have a better way to track my metrics. And to just streamline my process.
I wrote out a plan to create my own starter themes with Beaver Builder for all projects.  I basically build everyone's website from scratch with a starter prototype, but I'm going to do more on the design end with that.  Sort of a deal-a-meal approach.
And when those designs are done, I will then create matching a Content Snare or each.  No doubt, this will be a huge amount of set up. But, like with everything else I've painstakingly planned (like my care plan program), it will pay off for years.
And it's not all about work! I am going to write out an agreement with myself that I have to sign.  It will include:
Other than Sunday night preplanning for my upcoming week, I will not work weekends anymore.  This is a rule for me that I break more than I keep.  And it just means I'm not doing a good job of managing my time during the week.
Spend time working on my 92-year-old home. I've been forced to lay on the couch and look at all the baseboards that need painting (even more now with me banging around on a scooter), yard work, cleaning and organizing that I've let go as I slave away behind the computer.
Enjoying my surroundings.  Nothing makes you appreciate your neighborhood more than not being about to go anywhere on your own.
I need to treat myself to a fancy spa day twice a  year.
Cook more.  Watching cooking shows makes me want to brush up on my cooking skills.
I have come to realize my entire life is wrapped up in running my business. I need to stop that.  There is so much more to life than work.  Thanks to HGTV for reminding me of that!
RESOURCES:  Inc. – 10 Reasons You Should Absolutely Not Work This Weekend